Aerobatic and Tailwheel
In 2013, East Coast Aero Club launched our Aerobatic and Tailwheel program. Marc Nathanson joined ECAC to instruct in our 2012 Super Decathlon.  The training programs include: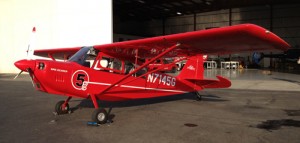 Tailwheel Endorsement
Increase your skills and achieve your FAA tailwheel endorsement during non-aerobatic training.
Basic Aerobatics

A valuable tool to increase situational awareness and increased muscle memory, aerobatic training offers a pilot the ability to control the aircraft further into the performance envelope. We have found that, after learning aerobatics, instrument pilots find their feel of the aircraft under instrument conditions vastly improves.
The Basic Aerobatics program prepares pilots to fly International Aerobatic Club (IAC) aerobatics in the Primary category. Learn to perform the Primary aerobatic sequences consisting of a 45 degree up line to a one turn spin, 1/2 Cuban 8 which consists of 2/3 of a loop with a half slow roll to upright attitude centered on the 45 degree downline. This is followed by a loop, 180 degree competition turn and ends with a slow roll.  Receive certification to fly our beautiful Super Decathlon solo by receiving your FAA tailwheel endorsement and fly in our IAC sanctioned practices and contests.
Learn additional maneuvers, including inverted level flight and inverted turns, inverted stalls, the Hammerhead, and Immelmann (a 1/2 loop and rollout to level at the completion if the loop). Three-point and wheel landings will also be taught to competency.
Upset Recovery

Learn how to recover from spins and wake turbulence upset to increase situational awareness and spin avoidance. Gain a better understanding of how to recover from a spin in different aircraft.
When possible, you fly behind another aircraft's wake to demonstrate the issues with this phenomenon. This is the least contentious way to experience an aircraft's reaction to wake. Learn the best methods to avoid and recover from wake turbulence encounters.
Professional Pilot Upset Recovery Program

Receive the same training in our Upset Recovery Course with emphasis on jet upset issues. Designed for the corporate pilot flying jet aircraft – especially those with swept wing designs.  Many companies flying corporate jets utilize this course to satisfy insurance requirements. This course was designed by a former jet fighter pilot who also flew the Boeing 727 and the MD-11 freighter aircraft for a major international cargo company.
Contact us for more information about our program!