Helicopters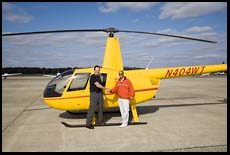 East Coast Aero Club was established in 1985 and has one of the newest fleets in the industry as well as some of the most experienced instructors. There are no membership fees associated with the club; you pay only for flight time.
A hands-on introductory lesson is just $279. Call 781-274-6322 to schedule right now.
We currently operate a 2009 Robinson R44 IFR trainer, manufactured in October 2009
Our helicopter training machines may be new, but we have an unusually experienced group of instructors.  Two of our four instructors have more than 1000 hours of helicopter time. Collectively, we have approximately four decades of experience as flight instructors.
Ready for your checkride? Great! We have an on-staff FAA Designated Examiner.
Passed your checkride at ECAC? Congratulations! Now you can rent our R44s ($425 for an hour) and take friends on sightseeing rides over downtown Boston, Cape Ann, Cape Cod, and the fall foliage. Even on weekends, a rental helicopter is almost always available at a convenient time.
Working on a helicopter instrument rating? Our instructors have a significant amount of time in actual instrument conditions, both in airplanes and IFR-certified helicopters.
You will do much of your helicopter training at our home airport, Hanscom Field (KBED), 15 miles northwest of Boston, Massachusetts. This is one of the Northeast U.S.'s busiest airports with a mix of single-engine airplane trainers, business jets, U.S. Air Force planes, helicopter training, and flights from the two medevac helicopters based on the airport (our hangar is near to theirs if you want to walk over and learn about careers in EMS). It is a great airport for learning to hover because of the massive amount of open space. You'll learn precise radio communications; most of the pilots on the frequency are professional jet pilots and, by the end of your helicopter training, you too will be talking on the radio like an airline pilot and that will help during your turbine job interview.
Our lead helicopter mechanic, Rob Brigham, has been working on Robinsons for more than 30 years and is one of the most experienced Robinson mechanics in the Northeast. We conduct our maintenance with a "spare no expenses" policy; Rob and the other mechanics have an unlimited budget to replace any parts that they deem necessary.